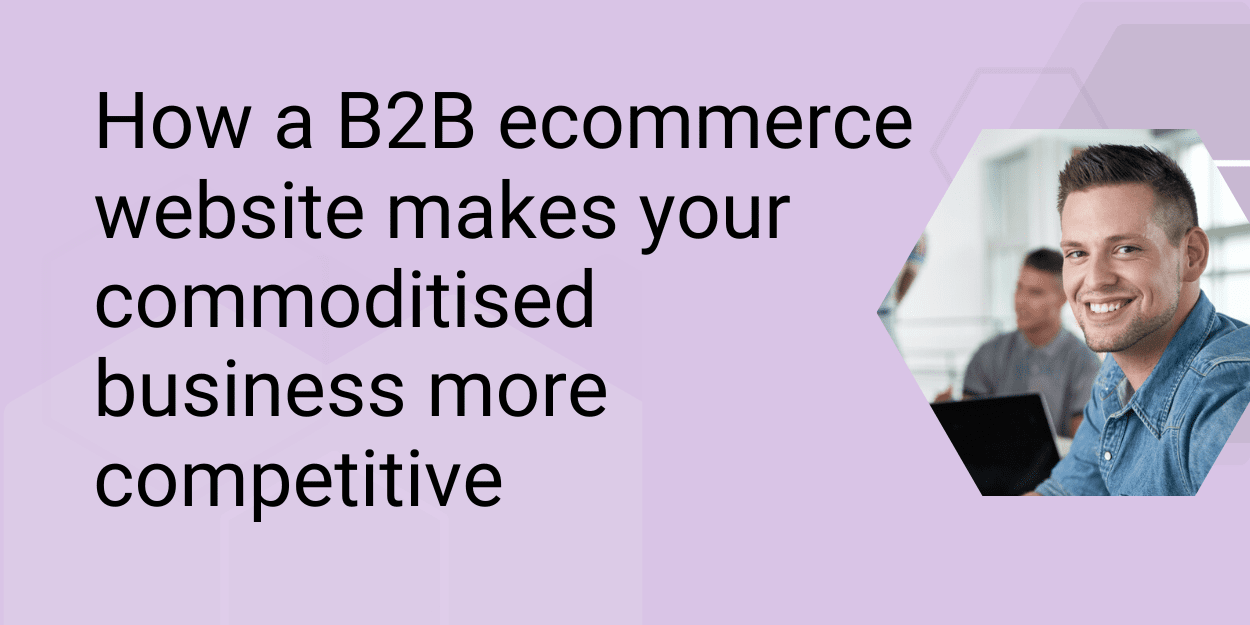 How a B2B ecommerce website makes your commoditised business more competitive
How do you stand out when your products aren't unique?
That's the fundamental problem faced by any business that sells in a commoditised space. And for plenty of B2B sellers, the answer isn't obvious.
You can't compete on product, and you shouldn't compete on price.
So what's the best way to differentiate?
The answer is in technology — and the exceptional added value it can bring to your customers.
What kinds of businesses are 'commoditised'?
If you're selling products that are essentially identical to what your competitors sell, you're selling commoditised products.
It's a broad term that can apply to all sorts of industries and product ranges. But in practice, it all comes down to one concept:
Interchangeability.
Commoditised products can be swapped for any other. (In your customers eyes, at least — and that's where it really matters.) That makes it tough to differentiate your products from those of any other seller.
So who exactly are we talking about? When it comes to B2B selling, we're usually talking about wholesalers and manufacturers who are selling:
PPE (Personal Protective Equipment)
Janitorial and cleaning supplies
Kitchen and catering supplies
Office supplies and stationery
Staff uniforms and workwear
Or any other kind of consumable or breakable supplies.
So what's the problem?
When your customers see your products as interchangeable, that means they see your company as interchangeable.
If they compare you to your competitors, they'll see similar products at a similar price — with similar results and benefits, no matter who they choose.
And that's a real problem.
"There's no differentiation with commoditised products. It's easy for your prospects to choose someone else — and easy for your customers to switch suppliers."
When a new prospect is shopping around for the products you sell, they've got no reason to choose you over your competitors. They'll go with the first suitable supplier they come across — or they'll go with the lowest price.
At best, winning new customers becomes a game of chance. And at worst, you're cutting your prices in an unprofitable race to the bottom.
But that's not all:
In the same way that your prospects have no reason to choose you, your current customers have no real reason to stay. The grass looks just as green on the other side — and any drop in quality or disruption in your service could lead to your customers switching sides.
The lack of differentiation makes it harder to win new customers — and harder to keep the ones you have.
What can companies do to stand out?
To have any chance at a competitive advantage, you need a way to differentiate your business. And no matter what kind of industry you're in, you're looking at the same set of options.
You can differentiate your business through your:
Price
Products
Image
Service
Customer relationships.
But for commoditised businesses, your options are naturally reduced:
Competing on price is a losing battle — especially with commoditised products, which often rely on high volumes and relatively low margins.
And in most cases, you simply can't compete with product differentiation. The reason your commoditised products are identical with others is because there's no need for improvement. How many extra features can you add to office stationery or janitorial supplies?
But that doesn't mean you can't differentiate:
You've got to look beyond the prices and products themselves — to your company image, the service you deliver, and the relationships you maintain with your customers.
And that's exactly where a B2B ecommerce website can add value.
"You can't differentiate with your prices and products. But you can set yourself apart through your service and your relationships."
An ecommerce website projects the right image
Your products may be identical to your competitors. But your company doesn't have to be — and the right B2B ecommerce website can have a huge effect on your customers' perceptions.
When your prospects and customers see a modern online storefront, they see a business that's:
Progressive and innovative — one that's at the forefront of the modern way of B2B ordering
Successful and profitable — with the cash to invest in the best digital platforms
Equipped to handle their business — with automated systems that can process complex orders
And future-proof — a company they can rely on that's in it for the long haul.
But it's not just about improving your own image. It's about how your image compares to everyone else.
If your competitors are still using static websites (or hiding behind a 'get a quote' page) you'll already have a clear advantage that sets you apart — from just the first few seconds of that first impression.
B2B ecommerce helps you deliver great service
For our own customers at Apparatus, this is where B2B ecommerce adds the most value. In fact, many of the B2B merchants we work with say that improved customer service is the number one differentiator that helps them win new business.
Why?
Because B2B buying is complex. And an ecommerce website makes it easier for your customers.
Apparatus comes with a huge range of features designed with your customers in mind — from customer-controlled budgets and automated approvals to the personalised product ranges and prices that make the experience unique for each of your customers.
These buyer-focused features help your customers to cut down on their admin. They help to ease the worries and stress of your customers' employees and management teams — and they give your customers a higher level of control over what they see, what they buy, and how much they're spending.
And the result?
Your ecommerce platform helps you deliver value to your customers that goes far beyond the products themselves.
When they choose you (or stick with you), they're getting a service that improves their own business — and that's something that other suppliers won't be able to offer them.
Your ecommerce website can improve your relationships
In the past, most B2B merchants relied on their personal relationships to help them differentiate — putting their sales reps through time-consuming phone calls and customer meetings.
Those interactions created connections. And those personal connections helped them win new business, sell more products, and keep their customers loyal.
But these days, your customers don't always want that level of personal interaction.
Recent data from Gartner shows that 83% of B2B buyers prefer ordering or paying through digital commerce. On top of that, a previous survey showed that 44% of millennials would rather not deal with a sales rep at all.
So what do smart sellers do with information like that?
They give their customers what they want.
"When they were led by sales reps, only 24% of B2B buyers completed a high-quality deal — compared to 65% of buyers who self-navigated."
Gartner Sales Survey, 2022
A B2B ecommerce website gives you the best of both worlds — appealing to both a younger generation that prefers purely digital ordering, and a traditional audience that prefers a more personal relationship.
With options for live chat support and rep-assisted ordering, you can still give your customers the human interaction they're looking for. But you'll also be able to give them the self-service experience that modern customers expect, with an ordering process that doesn't need a sales rep.
You're giving your customers more options — letting them choose how they want to interact with your business, and creating a relationship that works on their terms.
Looking to stand out in a commoditised industry?
We can't help you stand out with innovative products or rock-bottom prices.
But we can give you the tools to help you deliver exceptional service — adding value to your customers while preserving your profit margins.
See how Apparatus can help you differentiate your commoditised business (and help you win new business along the way).
NEWSLETTER
Sign-up to our
Newsletter


for the latest updates &
B2B ecommerce tips